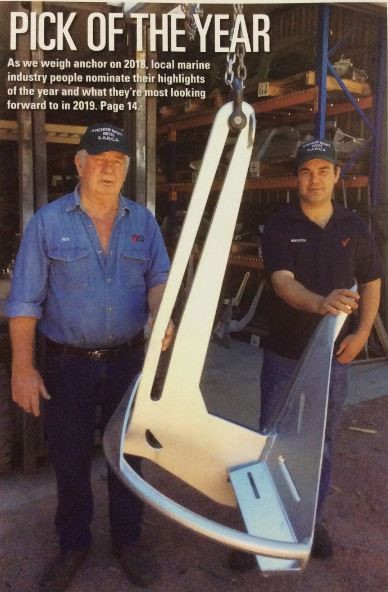 (as featured on Marine Business magazine)
Australian manufacturer Anchor Right has built a loyal following of customers over more than 20 years of anchor designs with many plaudits from boaters at home and abroad. The company is a regular exhibitor at local boat shows, including SCIBS and Sydney in 2018, where it caters primarily to the recreational market.
Anchor Right's expertise extends well beyond its popular small boat anchors, however, and this year it manufactured its largest anchors to date, two 220kg Super Sarca anchors for use on a dredger operated by Kingston District Council in South Australia.
Matt Murdock from the council contacted Rex Francis at Anchor Right to see if he could help solve an anchor dragging problem with the council's new Damen CSD350 dredger. Anchoring dredgers can be very difficult as they typically anchor in substrates which are too mobile and loosely compacted.
"After some research it became obvious that we needed Sarca anchors, and they had to be big ones," said Murdock. "With sound advice from Rex, two number 18 Super Sarca anchors were purchased. At 220kgs each, they are easily handled and give fantastic holding power. Operating in open water at 70 tons, the dredge takes some holding. The number 18 Super Sarca anchors have proven themselves admirably."
Not only was Anchor Right able to solve the problem with immediate effect, the supplied Super Sarca anchor weighs 30kg less than the anchor it replaced, a testament to its proven design.
Magazine snippets: