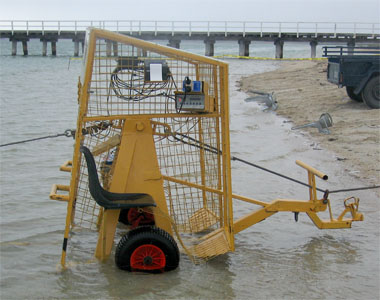 SARCA Excels performance is largely due to TATS allowing us to test in a variety of ocean type floor terrains in real deployment situations, No laboratory testing in man made sand pits, no guess work, just reproducible and quantifiable results so as we can for the first time deliver an anchor to you the customer that actually performs as we say.
Testing with a tug boat was the norm and is an age old method that produces many variables. These variables range from wind, currents, wave height, spiking of an anchor, Rhode length and throttle application. It is NOT feasible to assign a factor to all of these variables to develop a test that will test all anchor designs fairly. The T.A.T.S. test all but eliminates the variable as above; producing superior anchor technology.
Our two new anchor designs Super SARCA and SARCA Excel have been tested for Super High Holding power accreditation. An independent testing authority; Robertsons Lifting and Rigging. praised this new technology; "better and more accurate anchor testing equipment was well overdue." T.A.T.S. also received the appraisal of the National Marine Safety Committee as an alternative and more accurate method of measuring holding power versus anchor weight.
Field testing of Super SARCA and SARCA Excel were carried out by an independent test authority Robertson's, the testing was witnessed by an environmental representative, marine survey officer, free lance and independent journo's a number of boat builders and marine distributors just to name a few, this group has praised Anchor Right Australia for taking the initiative in producing a device the punches out results that can be trusted.
Check these results on out Certification page.