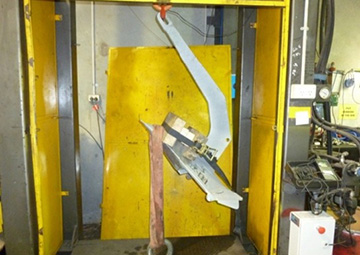 For Super High Holding Power certification the (NMSC) National Marine Safety Committee of Australia authorized Roberson's to perform the field and proof testing on our complete range of anchors.
We start off with a recognized testing Authority. Robertson's a NATA testing station that has thirteen facilities Australia wide.
The Proof Test
Proof testing eliminates the use of poor quality steel and gives you construction design improvements resulting in a quality product. When you purchase an anchor most would buy on marketing and feedback, that's fine but don't just rely on hearsay.
You have the right to ask for proof of what they are pedaling. Make no mistake your life could one day depend on a well-built anchor or a Gerry built one.
Proof testing has many advantages, if you are designing anchors, proof testing is the only way you are going to find their weaknesses, we test not just for accreditation but to destruction, this is an enormous help when we develop larger anchors to hold commercial vessels.
We have been in anchor design and manufacturing for many years now and have carried out hundreds of hours of research and Yes we make anchors out of stainless steel, the fluke plates are of 316 and the shank of a grade 50 percent stronger.