Rex Francis is a keen fisherman with experience as a telecom technician as well as being a mechanic/panel beater and a designer of tools. He has changed the entire boating industry by inventing an environmentally friendly and revolutionary new anchor, the SARCA (sand and reef combination anchor).
Rex say's this new design was truly a world's first purpose designed combination anchor, we know this as our patent search turned up nothing like it world wide.
Rex, father of five, decided to invent the anchor after several instances of what could have been life threatning situations. For eleven years he applied his mechanical aptitude to design a multi-purpose anchor that covers all of the other anchors on the market because it can be used in sand, mud, rocks and reef.
Although the process of inventing, patenting and marketing has been frustrating and burdensome, Rex can now see the fruits of his labour as his anchor is known throughout international waters and in parts of Asia, America and Europe.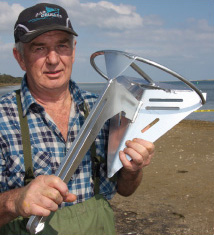 Rex first launched his new design in 1996, by the turn of the 21'st century the SARCA anchor had built such a reputation for it's unique ability that many other anchor Manufacturers were now being forced to rethink anchor technology, as the SARCA continued to capitalize on sales throughout Australia and New Zealand. 2005 has seen a host of similar arrangements relating to SARCA's concept released onto the market. Be warned they may look similar but cannot reproduce the performance of SARCA over the variations of substrate on the ocean floor.
The imitators marketed under the banner of new generation anchors are of concave design and of course work quite well, after all they are based on SARCA's design, unfortunately the mud problem has raised it's ugly head on many forums and confirmed to us that we had made the right decision, (convex). SARCA doesn't have the mud bucket design.
Article by Jonathan Neeves (pt2) – Afloat Magazine May 09 (PDF 13,100 KB)
Article by Jonathan Neeves (pt1) – Afloat Magazine May 09 (PDF 9,140 KB)
Other features on the SARCA copies also include a hoop and the famous SARCA trip release, again it has been confirmed by a number of anchor tests that this large hoop on the copies restricts the depth of the anchors penetration.
Anchor Right does not copy, we invent and design new innovative product, this is what Anchor Right is about, that is our passion and is why we are successful in leading and showing the opposition a clean pair of heals in the world of new anchor technology.
You may ask why the new Excel anchor? Since our success with the launch or the SARCA anchor some 13 years ago, the marine industry has continually asked if we could design a more generic style anchor, minus the hoop with the performance of the SARCA, reason being boats with pull pit anchor retrieval arrangements could not accommodate the SARCA, as the hoop restricted them from pulling into the pull pit.
To cut a long story short we took on this challenge 200/06, some three years later the result is something for Anchor right to be extremely proud of, the (SARCA Excel) upon first glance you could be forgiven for thinking Excel is another version of the popular plough style anchors, at a second glance you will notice the Excel anchor is a combination of concave and convex with single plain flukes that do not plough, they compress and force all substrate over its rear filling in behind it, great for the environment, Excel has no lead, another winning feature for the environment, its convex head is filled with cast steel, its shank and cutting toe is of bisaloy, resent proof testing on the Excel is proving it to be a contender as the strongest anchor ever produced.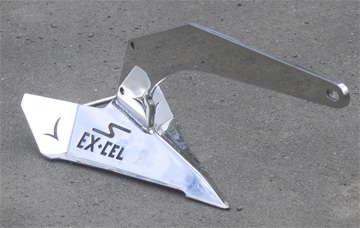 It's design is ninety percent convex and ten percent concave, the ten percent being the concave cutting edges, recent testing on this anchor against the best anchors in the world, even the recent Manson supreme new generation concave anchor design accredited by Lloyds has proved no match for this incredible new Excel anchor.
For the short time that Excel has been on the market the boating industry is falling in love with not only it's astounding ascetics but more importantly it's incredible unmatched performance, SARCA Excel will make future anchor development more difficult as Excel will prove to be the anchor of the future, and yes another great feature of the Excel it is also a multi purpose combination anchor, yet another winning feature for not only the boaters but the environment.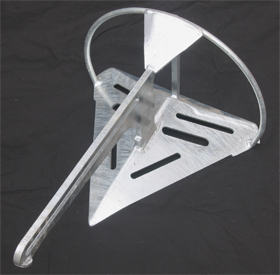 When we took on the challenge for this new generic anchor design Excel, we included in our R&D to come up with a new and more accurate method of testing and gauging the actual holding power of our anchors. (Why SARCA has been renamed Super SARCA?) See our T.A.T.S. Machine page for one of Anchor Rights greatest achievements in anchor development.
Note: All testing of significance was carried out by independent test authorities and independent wittiness's read more on the TATS page and view these incredible holding power results. Both of our anchor designs are now certified as Super High Holding Power anchors.
SARCA Excel has a life time guarantee against breakages, conditions apply.
From frustrated boater to a recognized expert in the boating world, Rex has brought modern thinking and technology to the ageless industry of the sea.