Some twenty five years ago Rex whilst boating with his family sitting on anchor it unexpectantly dragged, this was due to its unsuitability for the ocean floor it was designed for. The incident could have been a life threatening situation for Rex and his family had they not being vigilant.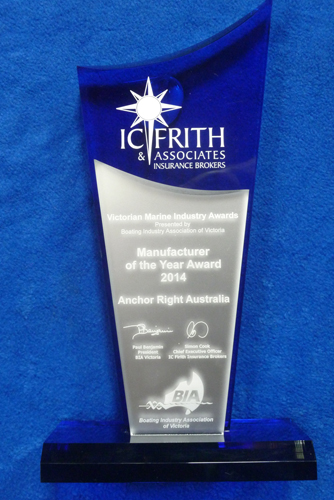 Rex being an engineer and motor mechanic decided if he was to pursue their new found love of boating, fishing that all the family enjoyed, he would have to either design a better anchor or give boating away,not just another anchor but a multipurpose one.
As we all know this is now history, his creation of the original SARCA anchor, Sand and Reef Combination Anchor was a world's first, he then went on to form his company Anchor Right Australia, after many years of resistance from all corners of the Marine industry the performance of his new found anchor began to demand respect.Police boats, coast guard, boat builders were now getting the message and fitting Rex's anchors.
After doing the hard yard's for many years Rex obviously inspired other anchor manufacturers and paved the way for now seen on the market are many similar copies, NEW GENERATION ANCHORS as we now know them, this did not deter Anchor Right, longevity of any competitive business is staying ahead of the competition, Rex responded by further developments to the Sarca and a new design to keep ahead of the competition.
Rex gained recognition from the N.M.S.C. (National Marine Safety Committee ) with his new anchor designs performance, he was then asked to sit on the N.M.S.C. board when they were in discussion of new laws, rules for anchors chains and ropes for commercial vessels, from these discussions another more accurate and less expensive method for testing anchors was realized, once again Rex among others stepped up to this challenge, Rex with the enthusiasm of his new employee , his son Brendon, stepped up to the mark and between them developed the first T.A.T.S. Rig ( Tidal Anchor Test Skid ) as we know it today, further it is now accepted by the N.M.S.C. as an alternative standard for testing anchors in Australia and New Zealand.
Since the employment of Brendon Anchor Right Australia has continued to grow to the point of them recently now owning their own factory in Pakenham. Anchor Right Australia are now selling anchors all over the world.
In the face of stiff competition and slow growth over the last 4 years throughout the Marine Industry we questioned Rex as to what has been Anchor Right Australia's most successful ingredient by defying the odds with continuous growth.
There are several Rex said.
Supplying product that is a cut above the rest by continuously investing in R&D, customer service, this is still such an important ingredient in any business, building trust, favorable history over longevity on warranty claims says so much about your company's integrity.
Diversifying, broadening your scope of application increases sales, keep up with modern thinking with fresh young minds, since employing my son Brendon some five years back he has injected modern thinking and enthusiasm, Brendon's contributions have also created new product.
Consistency and availability of your product is a must, as a result of our services to all we are now recognized as a reliable, trustworthy company that supply two very different anchor styles, offering choice in no less than forty sizes, manufactured in Australia using quality Australian steels, hot dipped galvanized steel, alloy's and stainless steel versions, anchoring boats from ten foot tinnies, runabouts, luxury and huge 300 hundred ton trawlers, product that has stood the test of time, tested to a standard then accredited with Super High Holding Power certification, this ensures the highest of quality and safety, our anchor designs are as good as, if not better, than the world has to offer Rex said.
Also worth a look at is their wide range of the highest quality one piece self-launch and retrieve bow roller assemblies, once again Australian made,they come in alloy and stainless steel.